There is lot happening at Tweetdeck, an awesome desktop client to Twitter with ease. New version of Tweetdeck is available with lots of new features and improvements. Most requested feature of accessing multiple Twitter accounts is now live on Tweetdeck. After install you will get prompt to create Tweetdeck account. Using that account you can login into multiple Twitter accounts with single Tweetdeck account login.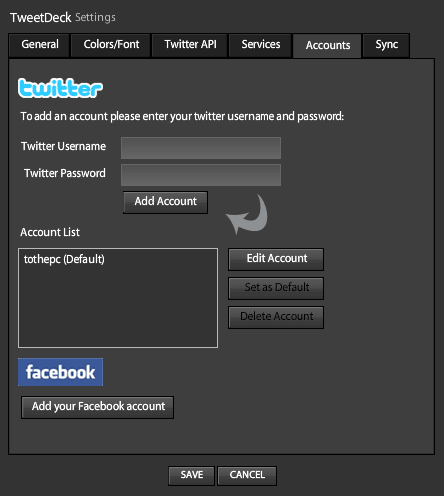 Related – See URL click stats of webinks in tweets on TweetDeck
Of course this is optional and you can continue to login using usual Twitter account. After login, click settings icon at top right and then click accounts tab. There you can add more Twitter accounts and even set either of Twitter account as default. It now supports unlimited columns, 10 column limit is gone. You can run local trends on any column in your Tweetdeck.
Now Tweetdeck is available for iphone. With iphone version release, sync feature is live and you get the same stuff, be it on desktop or on the phone. You can sync and backup your Tweetdeck settings and columns on desktop or phone. With latest improvement Tweetdeck is for sure best Twitter client with others distant 2nd, 3rd etc – what say?