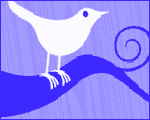 There are number of Twitter clients that you can install on your computer and get going with Twittering. Gtwit is a dynamic web based Twitter client that do not require any software download and installation.
Hosted on Google's cloud infrastructure, it allows you to perform basic Twitter functions. It stores all tweets you send or follow. You can also search your tweets by person, word or tag. Other features include:
It supports multiple twitter accounts.
It auto-removes any tinyurls in tweets you receive.
Allows smart completion of people or tags (hit @ or # in text box).
Shrink links you type so you can fit more into 140 characters.
Best part, it does not require any installation. To get started, login using your Google Account and then enter Twitter login details. Currently, it works fine in FireFox or Safari – IE support is still in making. Checkout gTwit for you Twitter needs without installing any additional software.