Are you a Twitter Addict? Even if you are NOT a Twitter addict and use Twitter once a while following should be of REAL use. Now you can do all Twitter stuff right from the comfort of your desktop. Here are 3 cool apps to get going:
1. Alert Thingy – Send and receive Twitter updates from the comfort of desktop. Besides Twitter, you also post photos to flickr and receive update from friendfeed. It has cool interface and allows you to interact with Twitter, Friendfeed and Flickr right from desktop.

2. Twhirl – It has been around for a while now and allows you to connect to multiple Twitter, laconi.ca, Friendfeed and seesmic accounts. It runs both on Windows and Mac and support loads of feature. Read more here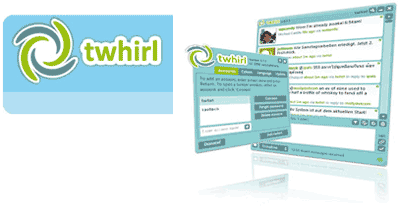 3. Toro – It is the latest addition to Adobe Air based Twitter clients. It does not have loads of features but it performs basic Tweet operation in an impressive manner. Simple glassy looks and tabbed interface is very helpful to stay connected with latest on your Twitter account.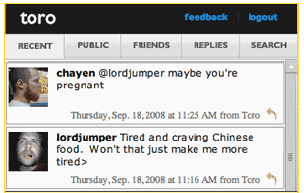 BONUS – Besides above, 'TweetDeck' is another Twitter Client powered by Adobe Air. Read more about it and click here to download for a test drive.
All the above apps need Adobe Air installed on your computer. Download and install Adobe Air before you install either of above app. Happy Twit Twit!