Twitter bug has bitten everyone from individuals to big media companies. Now you can follow latest CNN breaking news by following their official Twitter account. Previously, there was no confirmed word if CNNbrk Twitter account was held by CNN or some other entity / person.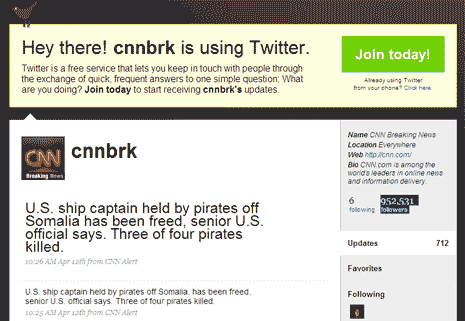 Related – Watch CNN Live on computer in Windows Media Player
Confirmation is through and this account is now with CNN. As expected, it has huge number of followers, 952,531 as of now. Did CNN buy this Twitter account (which is against Twitter TOS) or acquired inactive account (which is fine)? Confusion prevails as pointed by TechCrunch. Also, the last breaking news update on CNNbrk Twitter account is for April 12 – wonder what is broken there!