Finally, Twitter has added real time search feature available to every Twitter user. Login into your Twitter account and you will find little crowded left sidebar. But you will love this crowd, below the usual elements will you see cool looking search box. Type any keyword and hit the enter key to see real time results for specific keyword.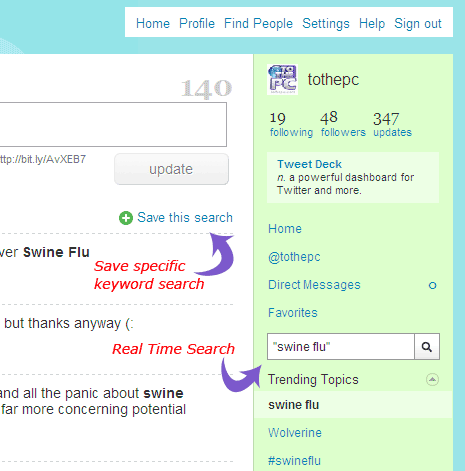 Related: Twitter in Outlook – Twiter in MS Excel
Below the search box you can see hot keywords contributing to tons of tweet traffic on Twitter. You can click on any suggested keyword to see related results. If you search for same keyword or phrase lots of time, then use 'save the search' feature. On search results page, click save this search button and then keyword link will be displayed in bold under search box.
To remove 'save this search' keywords under the search box: click the keyword to open search results page and then click 'Remove this saved search' link. Real time Twitter search coupled with save the search feature will make Twitter more useful allowing you to access stuff of your interest, what say?