Yahoo Mail new interface makes it real easy in sending free SMS to any mobile phone. There is no registration, you only need two things: a free Yahoo Mail account and mobile phone number where you want to send the free SMS. To get started, you need to switch from classic Yahoo Mail to new Yahoo Mail – here is the simple procedure: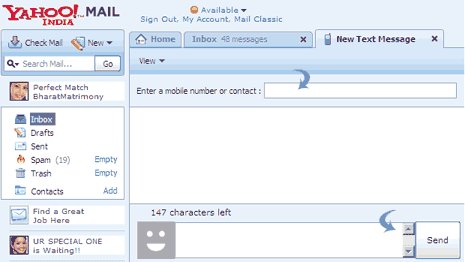 1. Login into Yahoo Mail & click "New Yahoo Mail" link at top right.
2. Your Yahoo Mail inbox will load with a new look. Now press t key.
3. Select your country and form to send text message will load in your Yahoo Mail inbox.
Now enter the mobile phone number (no need for country code) and your SMS text in the "New Text Message" form. Click the send button and your SMS recipient should receive the SMS within few seconds. Worked like charm, tested few times! [Send free SMS from Gmail Chat]