Are you tired of advertisements at the bottom of your Messenger window? Those flashy advertisement can really make chatting -Â crap!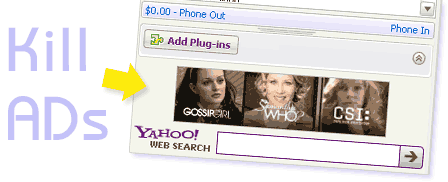 Well, you can easily say Goodbye to advertisements in Messenger Window using small patches. Don't worry, these wont bring your system down – will just remove those pesky advertisements.
REMOVE ADS IN YAHOO MESSENGER
You just need to execute one small patch to rip those ads away from Yahoo Messenger. Here is simple procedure:
REMOVE ADS IN LIVE MESSENGER
You can easily remove ads from Live Messenger using 'Live Advert Remover'. It blocks all advertisement banners from being displayed in Live Messenger. It works with all versions of Live and MSN Messengers. You need to run it only once to "patch" your system.
Incase this does not work, checkout A-Patch [via] for Windows Live Messenger 9.0. This patch is packed with over 80 tweaks, which includes 38 tweaks for the main window, 36 tweaks for the chat window and 10 miscellaneous tweaks.
Do you know any other way to remove ads from messenger? Share with use by adding a comment!