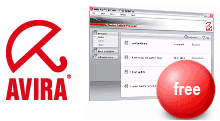 Avira AntiVir free personal antivirus software offer basic protection to your computer. New version has number of improvements and feature bump. It offers proctection against dangerous viruses, worms, Trojans and costly dialers.
It also acts as basic Anti-Spyware for your computer. Here is list of features in free edition of Avira AntiVir:
AntiVir protection against viruses, worms and Trojans.
AntiDialer protection against expensive dialers.
AntiRootkit protection against hidden rootkits.
AntiPhishing protection against phishing.
AntiSpyware protection against spyware and adware.
NetbookSupport for laptops with low resolution.
QuickRemoval eliminates viruses at the push of a button.
Besides the new user interface, it has faster Scanning up to 20% faster. Download Avira AntiVir free personal antivirus protection. Alternatively, checkout AVG free security software.