Do you want to add page number to pages in PDF file without having to install premium PDF software? A-PDF number is a small and free utility to quickly assign page numbers to pages in any PDF file. It does not require Adobe Acrobat and produces documents compatible with Adobe Acrobat Reader Version 5 and above. You can add various type of numbers at different places in a PDF document.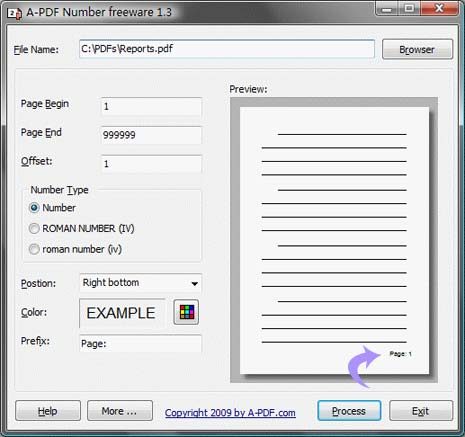 Features of A-PDF number assigner
1. Add types of number: number(4), ROMAN(IV), roman (iv).
2. Position number: Bottom Left, Bottom Middle, Bottom Right.
3. Add prefix to number like page 1, pages 2, document 1 & so on.
4. Select color for page number display font.
Download A-PDF free utility to add page numbers to pages in a PDF document. Very quick and effective way to assign page numbers without having to deal with any heavy feature laden premium PDF software.