Photo Tagging feature is now live at Orkut. You can now add tags to any or all photos uploaded in Orkut account. Just like Facebook, this feature is very easy and simple to use. Here is quick 2 step procedure to add tags to photos:
Step 1. Login to your Orkut account and goto Albums. Then open any of your uploaded photo.

Step 2. Click on Add Tag button and then select the part of image using mouse (as shown in picture). Then enter the name of your friend that you want to assign as a tag. As you type, you will see a drop-down pop with matching names of friends in your account for easy tagging.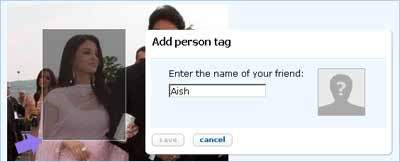 From now on you will see 'photos of him' and 'photos of me' options for tagged photos in respective Orkut accounts.
Not comfortable with tags? You can disable Photo tagging feature from 'privacy' tab in settings menu. Click on 'settings' at bottom-left and then click on 'Privacy' tab.

Many new features have been added to Orkut. Besides photo tagging, third party apps made debut, ability to show Orkut status message and of course colorful Orkut themes. Happy Orkutting!