Ideally, one would head over to a chatroom to chit-chat with multiple buddies. AIM Blast is all set to change that, with this you can IM multiple buddies without opening a chatroom. To get started, make a blast group with selected IM buddies.
There after, the blast group will appear in your buddie list. Using that, you can IM buddies listed in that blast list, You don't have to download anything. Just head over to blast.aim.com – create your blast group and group should start appearing for you to blast buddies with IMÂ messages.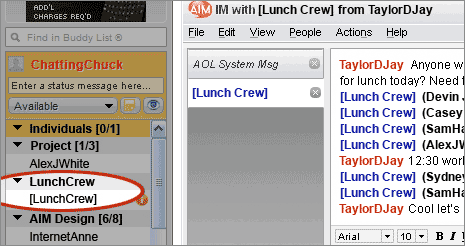 As seen in image above, Lunch crew is a blast group that allows multiple IM among buddies. You can monitor your blast group's composition, invitation requests, member acceptance using your account at AIM blast website. Read FAQs for more – handy feature to get more chatty!