Google Adsense has added interesting new feature that should affect your Adsense earnings (in positive manner). Now besides Adwords advertiser, Google certified ad networks can also display advertisements via Adsense. These Google certified ad networks can compete with Adwords advertisers to display advertisement on various blog and websites using Google Adsense. By default, this feature is enable for all Adsense users. You may want to disable it (however, read the ending note before taking decision to disable it).
Allow / block Ad networks in Adsense
1. Goto www.google.com/adsense & login into your account.
2. Goto Adsense Setup > Ad Review Center.

3. Scroll down to bottom of the page & click 'change' button next to 'Google Certified Ad Networks'.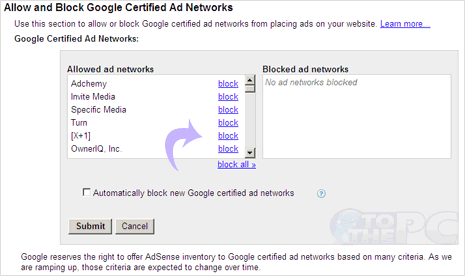 4. Click block button to block specific ad networks. You can click to check option 'Automatically block new Google certified ad networks' for blocking new ad networks.
Should I block or keep default 'allow' setting
These Google certified non-Google ad networks will compete with existing Google Adword advertisers to show advertisements on your blog or website. This will increase competition and hopefully jack up rates with final result of more possible earnings.
Ideally, you can keep default settings of allowing all non-Google ad networks to compete and show advertisement via Google Adsense. Otherwise you do have option to block all or specific non-Google ad networks. Test it out and see which configuration gives best revenue – do share result with us by adding comment!