Google Docs Spreadsheet has added a new feature of 'Sheet protection'. It allows you to invite and select people who can edit and build on content of a spreadsheet document. For example, you have list of 5 friends who can help you build on contents of a spreadsheet file. However, you trust only 3 of making meaningful addition to the spreadsheet file.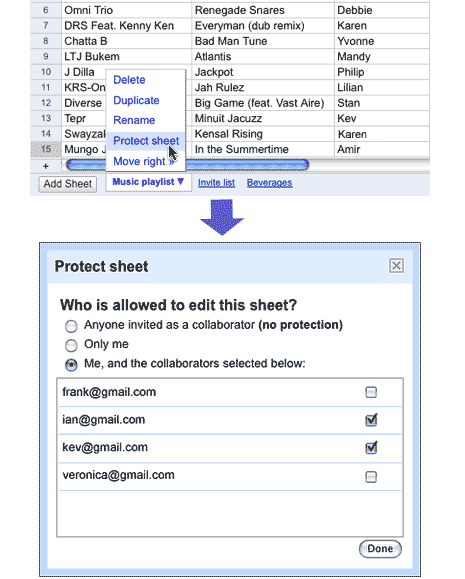 Using sheet protection feature, you can grant editing powers to specific 3 friends and perform collaborative editing of the spreadsheet document. To use this feature, click the sheet's tab at the bottom of your spreadsheet (next to Add sheet button) and select Protect sheet. In new window select either of options among:
Any collaborator can edit the sheet.
Only you can edit.
You and specific collaborators can edit.
Using this feature you can collectively build on spreadsheet data without having to worry about any naughty element causing disruption in collective spreadsheet building exercise. Very cool feature for regular Google Docs spreadsheet users. [via]