Want a refreshing change from usual blue tone Facebook page design? There are number of ways to customize Facebook page layout design, looks and elements. We have already seen heavy loaded way to customize Facebook interface using Yontoo Layers. If you love browsing Facebook in Google Chrome browser, then there is even easier way to change Facebook page look using Facebook Styler extension.
Change Facebook look in Google Chrome
Just launch Google Chrome browser and download / install Facebook Styler Chrome extension. Then goto Tools > Extensions and click Options button next to Facebook Styler listing. You can customize lot of things on Facebook page using settings on options page.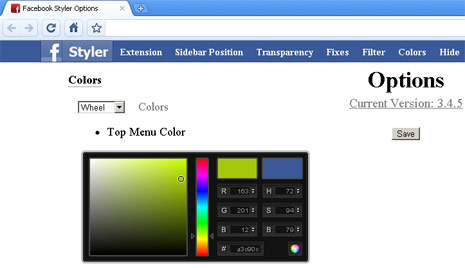 1. Change the sidebar position to left / right.
2. Make top & bottom menu transparent by moving slider.
3. Get rounded corners, large images on hover, shorten titles.
4. Customize color of top menu & other elements.
5. Hide footer, chat, mail, notifications, sidebar, newsfeed.
Grab this cool extension for full design control over Facebook page layout. If page breaks after customization, revert to original settings and start customizing again. You can customize Facebook functionality in Chrome by adding feature to auto zoom image on mouse hover.
If you use Firefox browser, you can still play around with customized Facebook layout design using auto colorize Firefox addon.