Latest Google Chrome update made changes to the way apps are displayed in the browser. With integration of Chrome Apps Launcher, apps list is no longer visible on the default start page of Chrome browser. Instead, we see a big Google Search box at top and thumbnail of recently visited websites. So where did my all apps list go in Google Chrome?
Accessing Apps list in new Google Chrome
1. Chrome Apps Launcher is the latest way to access apps list in one view. Click Start and type "Chrome Apps Launcher" to see pop-up box displaying list of all apps installed in Chrome browser.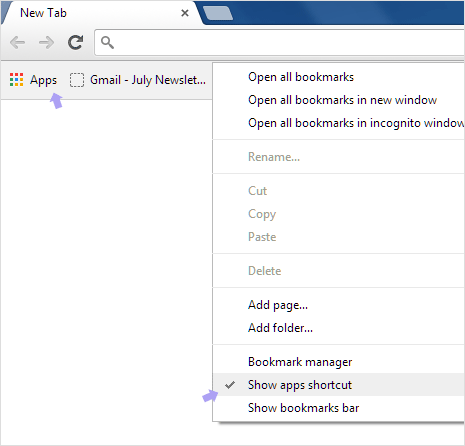 2. Look for Apps button at top left part of bookmarks bar. If you do not see Apps button, right click on bookmarks bar and then click to check "Show Apps Shortcut" option to make it visible.
Can I see Apps list on new tab in Google Chrome
1. Manual way to do so is by clicking Apps button at top left part. However, for this you need to click Apps button each time you want to see Apps list. For automated display of apps list on new tab in Chrome check options below.
2. Change Flags setting: Open Chrome browser and type chrome://flags/ in the address bar. Then search for "Instant Extended API" and disable it. This will restore old Apps list on new tab instead of search box with recently visited website thumbnails.
3. Set Apps list as your start page in Google Chrome settings. Click on button at upper right and then click Settings option. Under "Startup" section, click to select "open specific page or set of pages" and click Set Pages button.

Add chrome://apps/ in the box there and click OK. From now on, whenever you open Google Chrome browser for the first time – it should show apps list on the start page.
4. To see Apps list on every new tab, install New Tab Redirect extension and goto Tools > Extensions. Click Options button under the extension listing, then enter chrome://apps/ as new tab url for Google Chrome browser.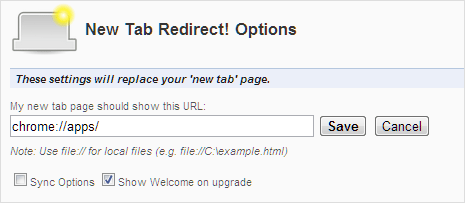 Using above work-around, apps list should be easily and quickly accessible even with updated Google Chrome browser – where more focus is on Chrome Apps Launcher for accessing Chrome apps.
Video: Show Apps List on new tab in Google Chrome