Google Translate is most easy and quick way to translate any text / webpage into different languages. You can extend the ease of using Google Translate through Google Translate Client. It is a free tool which makes process of translating text involving less clicks. Ideally one would go to Google translate webpage and paste the text or URL and then start the translation.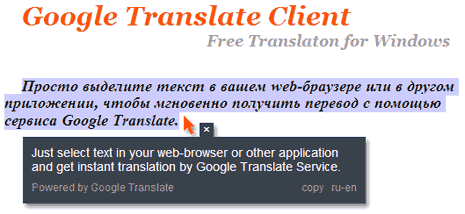 Related – Human edit to auto translation with Google Toolkit
You can forget all that using this free translation client. After install, it sits on the system tray. You can select text from any Windows application like Outlook, MS Word, Internet Explorer, Firefox and more. After selection, click the Translate Client icon on the system tray to see translated text in a flash. Download Google Translate Client for one click language translation minus jumps from one window to another.