Google Translate is a cool way to translate any text or webpage into different language in few simple clicks. Extending this machine translation coupled with human edit functionality is Google translation toolkit. This new web service allows you to translate text, webpages, knol articles, wikipedia pages and text files on the computer to any languages of your choice.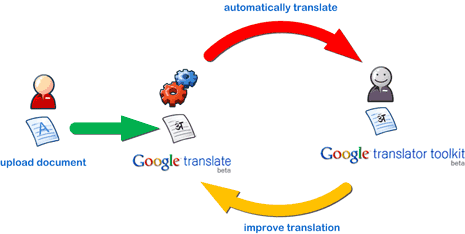 Related – Translate language of emails received on Gmail
Interface show two windows with left window showing content in original language and right window showing translated text content. After the auto machine translation, you can refine it through manual editing. It automatically shows previous human edits for same text (if available). You can lookup for dictionary meaning of any word and compare text with manual edits with text of original machine translation.
Google Translation Toolkit is an ideal tool for amatuer and professional language translators to get on with process of translation quickly without bells and whistles. One easy way to improve final translation output with human edits, here is video (via Google India Blog) explaining it all: