Every browser including Google Chrome store history of websites you browse. Besides the general storage of history data like visited URLs, it also contain website cookies. Till now, some cookies and plugin data could not be deleted using default method to delete Chrome history details. However, with upcoming version of Google Chrome you should able to remove even plugin data like data generated byAdobe Flash Player on your computer.
What is plugin data & local storage in Chrome
Certain application and website create local storage data which is typically difficult to delete. For example: Adobe Flash Player generates Local Shared Objects (LSOs), which is also called Flash Cookies. Ideally, to delete Flash cache data you need to visit macromedia.com website and then remove cache files. Other ways may include using special Flash cookies remover software. However, in upcoming version of Google Chrome – you can delete such plugin data from Chrome settings itself.
Delete & remove plugin data in Google Chrome
1. Open Google Chrome browser, click Wrench icon at top right and then goto Tools > Clear browsing data to open Clear Browsing Data dialog box. There are alternate ways to open this dialog box, use Ctrl + Shift + Del shortcut key or type chrome://settings/clearBrowserData in address bar and press the Enter key.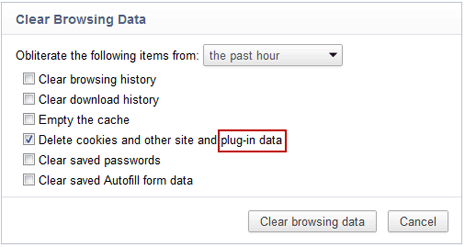 2. In Clear Browsing Data dialog box, click to select "Delete cookies and other site and other plug-in data". Then click 'Clear Browsing Data' button at bottom.
Don't see this option? This option will be visible in upcoming Google Chrome version. Make sure, Chrome is updated on your computer to access this feature (as and when it is available).
Above will delete all plugin data recorded while using Google Chrome browser to surf the internet including Flash cookies (LSOs). For sure nice addition to delete such type of browsing data which is hard for average internet user to understand and waste time for searching methods to delete the same. It for sure gives boost to user experience and confidence while using Google Chrome browser for internet browsing. [via Chromium blog]