Besides installing free web apps in Chrome, there are number of paid web apps in Chrome web store. You can purchase any of paid web app using your credit card through Google Checkout service. If you do not like paid web app for Chrome, you can cancel purchase within 30 days. There is also option to contact developer to issue refund for the web app purchase.
Basic requirements to buy web apps in Chrome

1. You need a Google account to login into Chrome web store.
2. A Google Checkout account is required. If you do not have one, it will be created quickly and linked to your Google account.
3. A Credit card to pay for the app purchase. You may use American Express, Discover, MasterCard, Solo, Visa or Visa Electro.
Purchase web apps for Chrome
1. Open Chrome web store in Chrome browser. Make sure you have latest version of Chrome or else you can update Google Chrome browser.
2. Click 'top paid' link on left sidebar to navigate to webpage with listing of paid web apps for Chrome.

3. Open page of specific web app and then click 'Buy and Install' button.
4. Login into your Google account and proceed to Google Checkout screen.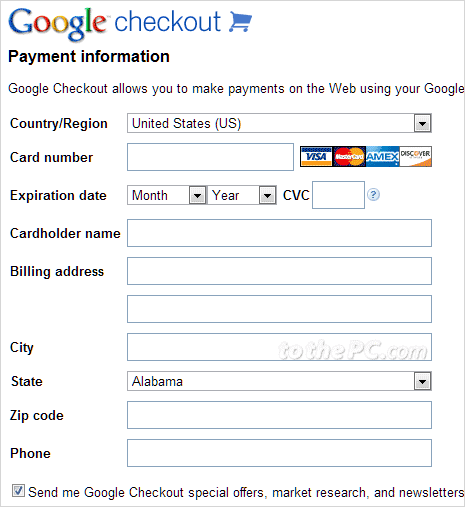 5. Enter required credit card details and other information.
6. Once app is purchase, goto specific web app page and click install button.
After installation, you can use the purchased web app as per requirement. In the meantime, you should receive email receipt of app purchase.
Cancel web apps purchase in Chrome
1. You have 30 minutes to cancel your purchase. This 30-minute cancellation window begins as soon as your credit card is authorized for the purchase in Google Checkout. Your credit card won't actually be charged until after the cancellation window expires. If you become unsatisfied with the app after 30 minutes, you can contact the developer through Google Checkout to ask about the app's refund policy.
2. If you decide to buy the app a second time, you won't be able to cancel your purchase. The sale is final and your credit card will be charged.
3. This 30-minute cancellation window is only available if you pay for the app using Google Checkout. If you didn't pay for the app through Google Checkout, please contact the developer directly for refund information. More details at Help page.