Google Docs is a cool way to write, store and share documents online. Besides writing documents in native language you can translate language and share Google Docs with users familiar with different language. This is possible by using language translate feature of Google Docs.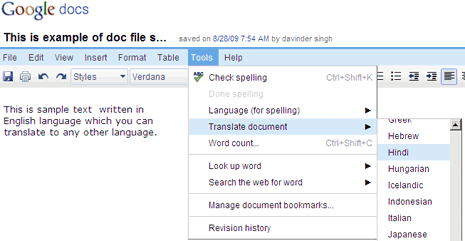 Translate Google Docs documents
1. Login to docs.google.com using google account.
2. Goto New > Document or open an existing document.
3. After you type some text, goto Tools > Translate Document
4. Select the language for translation.
You will get translated text in new window with 2 options: 1. Replace original document with this translation and 2. Copy to new document Close. Select either of option to share translated text using Google Docs with friends or users familiar with different language. Simple & easy!