iGoogle is a start page feature from Google. You can customize and add content as per your liking: from changing the look of iGoogle homepage to useful functionality like sending files via iGoogle chat. It has option to browse RSS feed content of any website or blog. Now you can browse such RSS content in visual manner in the form of photo slideshow.
Visual RSS feed browsing on iGoogle page
1. Goto www.google.com/ig and login into your Google account.
2. Click 'Add Stuff' button at top right part. On the next screen at the bottom left, click 'Add feed or gadget' link.

3. In the pop-up box, enter RSS feed URL of any website or blog whose feed content you want to view as slideshow. For example: add RSS feed of National Geographic daily photo
http://feeds.nationalgeographic.com/ng/photography/photo-of-the-day/#

4. After adding feed, click on iGoogle icon to go back to iGoogle homepage. You will see feed box at top left part of iGoogle page.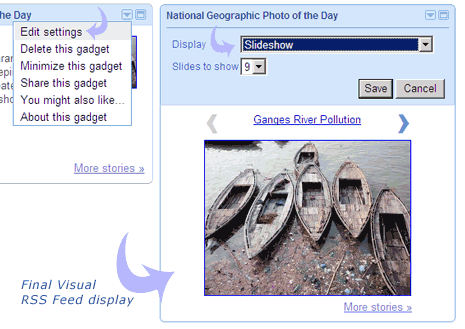 5. Click on down arrow key and then click 'Edit Settings' button. Select 'Slideshow' option from drop down box and click 'Save button.
Enjoy RSS feed browsing as photo slideshow, click next or previous arrow button to view more items in specified RSS feed. Simple and easy way to read RSS feed content in visual manner. You can also use Google Reader for visual RSS feed browsing in few simple clicks. [via iGoogle blog]