Google has taken next step for integrating Google+ (Plus) content on main Google Search website. From now on, when you are logged into your Google account – you may see related social content including: pages shared with you by your friends, Google+ posts from people you know and content that is only visible to you (like private photos from Google+ and Picasa albums). It is a part of new feature under catch-line "Search, plus Your World" as promoted by Google.
What is "Search plus Your World: Personal results"
Just like Bing search show related Facebook content on Bing Search result pages, Google will display related content you have been sharing on Google+, Picasa and other Google products on Google Search results pages. So besides usual search results, you will be splashed with related shared Google+ Plus posts at top and right side of Google Search results webpage.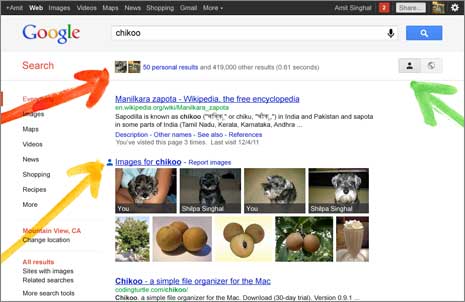 Such 'personal results' will be completely private based on your activity on various Google services like Google+ Plus, Picasa and so on. It will be displayed only when you use Google Search while logged into Google account. [Image Credit: Google Blog]
Turn off  Google+ 'Personal Results' in search results
While few users may find 'Personal Results' feature useful with more related content being displayed (that you or your friends may have shared previously), other users may visualize as additional clutter to otherwise neat looking Google Search results page. Fortunately, you can disable 'Personal Results' feature temporary or permanently in your Google account.
1. Temporary & instant solution – Look for Globe icon at top right part of Google Search results page. Clicking Globe icon will hide personal results temporarily. While clicking 'Personal Results' button will display usual search results along with personal results.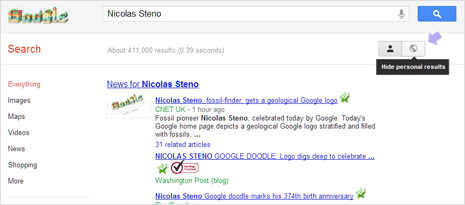 You need to toggle to 'hide personal results' by clicking Globe button everytime you login into Google account afresh and perform Google search.
2. Permanent solution – You can turn off 'Personal results' option in your Google account settings. Once disabled, no personal results will be displayed while using Google Search logged into your Google account.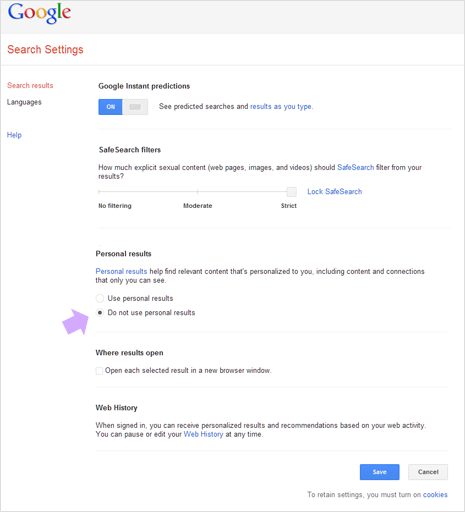 – Click options icon at top right and then click Search Settings option. Then scroll down and look for "Personal results" section.
– Click to select 'Do not use personal results' option. Then click Save button at the bottom. This will disable 'personal results' feature and no related content from Google+ Plus, Picasa will be displayed in search results.