Now you perform clutter free browsing of RSS feeds online in Google Reader using 'full screen mode'. This allows you to only view actual feed content minus the top and left sidebar. You can easily toggle between normal and full screen view using quick keyboard shortcut key. Also, you can optionally view the explorer left sidebar in full screen mode as per requirement.
Switch Google Reader between full & normal mode
1. Login to open Google Reader at google.com/reader.
2. Press f key to switch to full screen mode. Press f key again to return back to normal mode.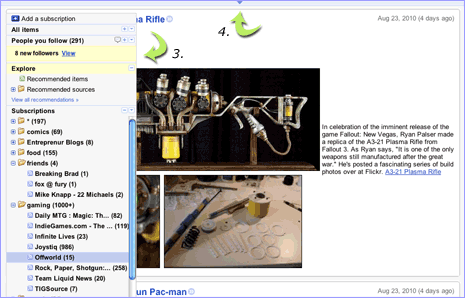 3. While in full screen mode, press shift + u to show or hide explorer navigation menu bar at left side.
4. To view top menu bar in full screen mode, click down arrow button at top middle part of the screen.
Full screen mode for sure adds much needed minimalistic interface for easy reading of long articles through RSS feeds. You can experiment further through visual RSS feed browsing using Google Reader play feature. [via gReader blog]