Gruml is an app for MAC OSX users to view Google Reader contents. It allows full blown viewing and management of feed subscription of your Google Reader account on MAC OSX. You can read newsfeeds, manage them in folders, tag them – all in sync with your Google Reader account. Preview unread messages and make changes using this app that sync with actual Google Reader contents.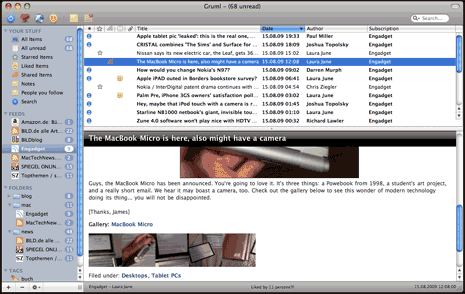 Feature of Gruml Google Reader App for MAC
1. They are in sync, changes made by Gruml are reflected in Google Reader.
2. Create new folders, rename & organize your feeds in proper manner.
3. Post and organize notes to Google Reader.
4. Gruml is ready for Snow Leopard.
Download Grumlapp to relish best of Google Reader way of feed subscription and management on MAC OSX systems.