While talk of Google Chrome gets little less, here comes new and improved Opera (9.6), which has undergone complete RSS Feed management makeover.

It allows you to see RSS feeds content before subscribing to it or even bookmarking it for quickly viewing what's new in a page without distractions. Content of RSS feed are shown column-wise.
Not just this looks good, it is also very easy on eyes and one feels like reading more (& more) RSS content in Opera browser. (Screenshot of preview of 'TechnoLife' RSS Feed)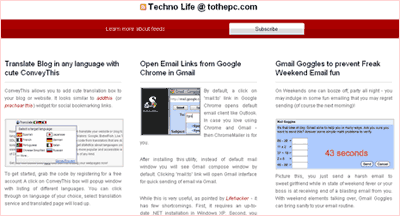 Now you can sync custom Search engines and typed History among different computers using Opera link. So any website address you typed in one computer will be available in all your other computers.
Opera Mail client gets Low Bandwidth Mode that enables super fast access to mails as a result of reduced data downloads. New version also promises faster page loading than previous version. Download Opera 9.60