Different type of data has varying level of importance and hence need to be backed up accordingly. Snap Backup is a free, fully functional backup utility that makes the whole process simple, easy (& Free).
To get started, after download and install of the utility – you need to configure location of your data file and specify location for storing backup like USB drive or Zip drive. It automatically puts the current date in the backup file name to prevent hassle of renaming backup files.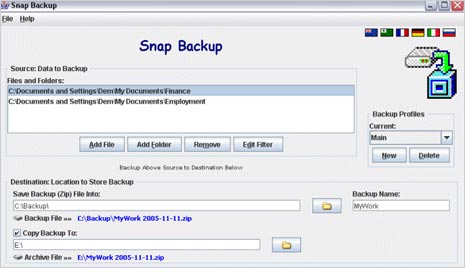 The resultant backup file is a single compressed file that can be read by zip programs such as StuffIt, gzip, and WinZip. It is an open source, JAVA based utility which is all free for download and use.
Download SnapBackup, it is supported on Mac OS X, Linux, Solaris and Windows. It is available in multiple languages and offer simple solution for one click backup of important data.