Gone are days of floppy drives and CD discs to share data. USB pen drives have become very common medium to store, transfer and share data quickly. With goodness of USB drive portability comes the risk of infection as a result of autorun malware (and viruses). Infections like Trojan.AutorunInf, the Conficker worm (Win32.Worm.Downadup) or Worm.Autorun.VHD can emerge from USB pen drive contents and infect computer easily. To protect USB and computer from autorun infection, we need to disable autorun selectively for prevention of malware spread.
Download BitDefender USB Immunizer tool
BitDefender is popular name for providing security programs. It has released portable USB Immunizer tool to check on the menace of autorun infection as a result of USB pen drive usage on Windows computer.
1. Open BitDefender website for USB Immunizer tool download. Once on webpage, click Download button on the right side.
2. This will download small zip file with BDUSBImmunizer1 name. Double click to unzip contents of downloaded file. Then double click BDUSBImmunizer icon to launch this program.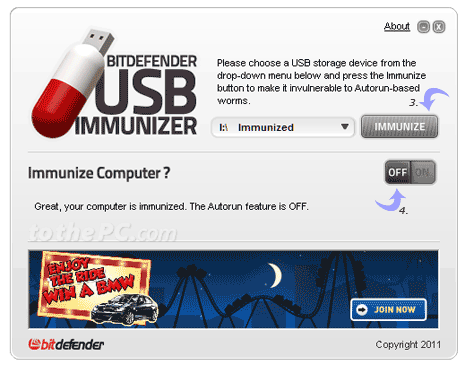 3. Select pen drive from drop box and click Immunize button. This will prevent any data on USB drive to create autorun file with intention to spread malware / virus infection on your Windows PC.
4. For further protection, this tool also allows you to disable autorun on Windows PC. While there is manual way to turn off autorun on Windows, you can do this quickly using this program. Click OFF button under Immunize Computer option to turn off autorun for Windows PC.
This for sure is handy tool to stay protected from autorun malware virus infection from USB pen drives. You can also use this program while using SD cards.