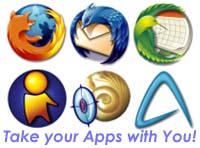 Are you a techno person on the move? If yes, then you can take your digital life along. You can carry all essential software in a portable device like a USB drive, ipod, portable hard drive etc. 
A portable application is a computer program that you can carry around with you on a portable device and use on any Windows computer.
When your USB flash drive, portable hard drive, iPod or other portable device is plugged in, you have access to your software and personal data just as you would on your own PC. And when you unplug the device, none of your personal data is left behind. Now you can download all the portable software available from one cool website PortableApps. Portable software has many merits like:
No Special Hardware, use any USB flash drive, portable HD, iPod etc.
No Additional Software, download the portable app, extract it and go.
No Conflicts or issues, it is really very easy to use.
PortableApps website has huge collection of portable software which includes applications under: accessibility, development, games, graphics & Pictures, internet, music & Video, office, operating Systems and Utilities. You can download any individual portable software of your choice.
It also offer a complete Portable App Suite which include a web browser, email client, office suite, calendar/scheduler, instant messaging client, antivirus, sudoku game, backup utility and integrated menu, all preconfigured to work portably. Simply download and you are ready to use.
PortableApps: Website – Download Suite – Download Individual Apps
Very handy for those always on the move. Now you can carry your web browser, instant messenger, Office Suite, important passwords and account with you!