Simple Mail is a cool Firefox extension that can turn your Firefox browser into fully functional email client. You can read, write and get notified of messages from multiple email accounts within Firefox.

To get started configure your email accounts preferences and set account refresh time for notification of new email. Status bar will indicate any new message and you can access it in separate browser tab. Basic features include:
Support Multiple email accounts (POP3/IMAP/SMTP).
Autocomplete box suggests recipient names/addresses as you type.
Drag and drop folders and messages into folders.
WYSIWYG editor to customize font and color of your message.
URLs are automatically converted to hyperlinks as you type.
Filter support to automatically dispose incoming messages.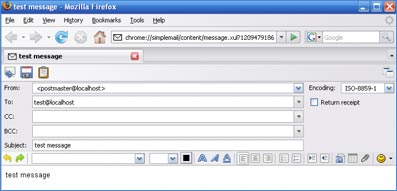 If you use Firefox as primary browser, then this extension can make email access real easy and simple within your Firefox browser. Download Simple Mail to make the process of accessing email simple and easy!