Now you can have multiple windows in your Gmail inbox. Whole Gmail inbox can be divided into different windows each showing specific type of emails in your Gmail account. This is possible using new feature 'Multiple Inboxes', allowing you to see more in the same amount of space. Following is screenshot of Gmail inbox divided into 3 parts.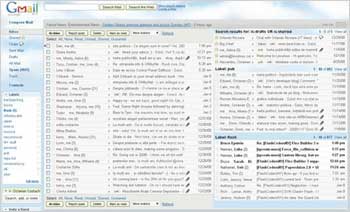 HOW TO ENABLE & USE MULTIPLE INBOXES?
Login into Gmail and click on settings option at the top. Now click on 'labs' tab and scroll down for 'Multiple Inboxes. Click on enable next to multiple inboxes and click on save changes button. Now you will notice new tab 'Multiple inboxes', click on that to configure number of windows / inboxes for specific type of content.
By default it will show 2 new windows showing starred and draft email messages. You can configure number of email messages that should appear in each box and their relative position to the inbox. One cool way to manage emails if you gets tons of emails in Gmail on daily basis – your thoughts?