Whenever you archive or delete an email message, you are sent back to inbox window by default in Gmail. However, in other email services like Yahoo Mail, deleting an email message opens next email message conversation automatically. Now you can customize Gmail to get similar feature to automatically open next email message conversation instead of going back to inbox window.
'Auto Advance' Gmail feature
1. Open Gmail inbox and goto Settings > Labs.
2. Under Labs window, click 'enable' next to 'Auto-advance' option. Then click 'Save Changes' button at the bottom.
3. Now goto 'General' tab on Settings page and look for 'Auto Advance' settings'.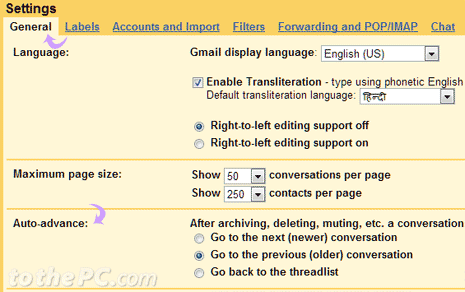 4. You can select either of following option (after archiving, deleting, muting, etc. a conversation).
Go to the next (newer) conversation
Go to the previous (older) conversation
Go back to the threadlist
Using above procedure you can customize Gmail to move to inbox or different conversation when a messages is deleted.