Gmail has been experimenting with the compose box feature. Recently, Gmail added small floating email compose box for writing new email messages quickly. Gmail is activating this new Compose Box for users in a phased manner, though there is manual option to enable compose box in Gmail inbox anytime. It has now added much requested improvement – bigger and better compose box.
Make Compose box full screen & centered in Gmail inbox
Gmail has added new option to switch small compose box to full screen mode. Bigger compose box allow more ease in typing long email messages with better visibility as a result of more screen space.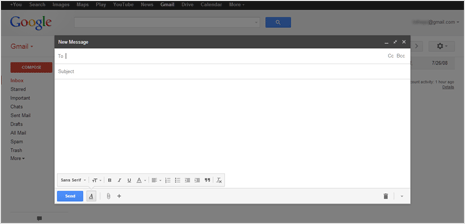 1. To enable full screen compose box temporarily – Click the Compose button at top left to open usual small compose box. Then click on double arrow option at top right of the compose box. This will switch compose box to full screen. You can also use keyboard shortcut for this: press & hold Shift key and then click compose button.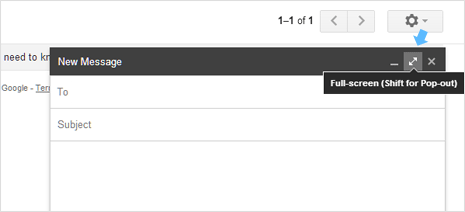 2. You can also use full screen compose box permanently by saving this option as default. In the compose box, click down arrow at bottom right and then click "Default to full screen" option. Once this option is selected, Gmail compose box will open in full screen mode everything you click on compose button.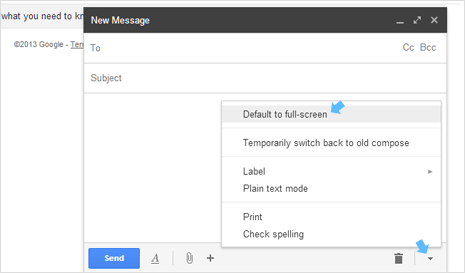 For users wanting old compose box interface – there is still option for the same. Click the down arrow at bottom right of compose box and then click "temporarily switch to old compose" option.
Video: Full screen mode of Gmail Compose Box
This new Compose box feature in Gmail is here to stay. Gmail is listening to user feedback and thus added full screen mode to compose box – which for sure is better!