We have seen number of Gmail notifier / alert applications, Spiffy is the latest addition. It is a small Gmail notifier that send desktop email notification for upto 2 Gmail accounts. Besides Windows Vista and XP support, it also works fine on Windows 7 operating system. Notification pop-ups window is simple, resembles pop-ups from Gtalk application.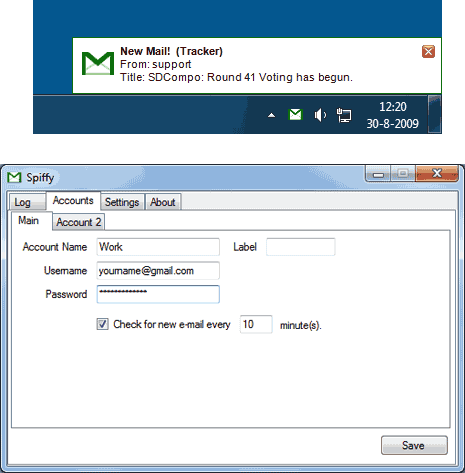 Related – List of Gmail email Notifier, Windows & Mac desktop apps
You can enter login details for upto 2 Gmail accounts in the settings window. Also set the time interval to check for new emails in your account. Download Spiffy Gmail notifier app for quick new email alerts on the desktop for upto 2 Gmail accounts. Alternatively, try Gmail Notifier for upto 5 Gmail accounts!