Google Maps URLs are generally very long and complex. It is very difficult to share long Google Maps URLs on Twitter, IM, email as long URLs tend to break. Now you can automatically shorten and snip Google Maps URLs using goo.gl URL shortening service. This is possible using "Short URL" Google Maps Labs feature.
Google Maps 'Short URL' labs feature
1. Open Google Maps website (maps.google.com).
2. Click on 'New' labs link at the top next to 'My Profile' link.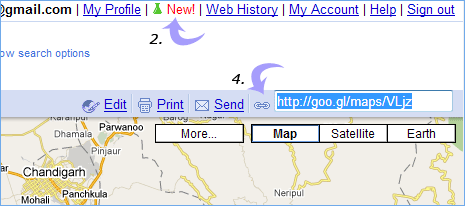 3. In the new window, click to select 'enable' next to 'short URL'.

4. Then navigate to any Google Maps location and click 'Link' at top right (next to print and send button).
5. It will display shortened URL for specific Google Map like: http://goo.gl/maps/VLjz
Manual URL shortening of Google Maps URLs
You can also use third party URL shortening services like (tinyurl.com), (bit.ly) and so on for generating shortened URLs of long Google Maps URLs.