We use Google Search on majority of devices like desktop, laptops, mobile phones and tablets. Google Search allows you to discover required content quickly on any device of your choice. Google display customized Search website for tablet users like Apple iPad complimenting the screen resolution and touch enabled interface. Tablet version of Google Search website has bigger font and more white space on right side of the screen. While few users find this easy to view search results, other find it annoying having to scroll more with bigger font showing less results at the top.
Switch tablet version to classic desktop Google Search
Fortunately, iPad tablet users can easily switch from tablet version of Google Search website to classic 'desktop like' classic version. You can use Google Search in either format as per your comfort level.

1. Launch Safari browser on Apple iPad and open Google Search website. While searching for any keyword, by default tablet version of Google Search website will open. Scroll down to bottom of search results page and tap on Classic option next to "View Google in:"
2. Same search results page will open in classic 'desktop like' version of Google Search website. You can easily switch back to tablet version by tapping tablet link at the bottom of Google Search homepage.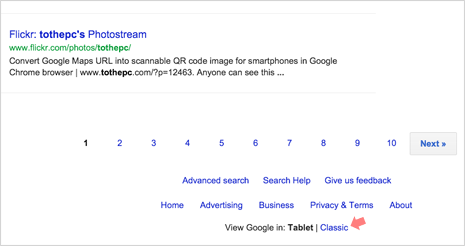 Tablet version has more white space and display fewer search results on default screen area without scrolling. Classic version display Google Search website as we see on desktops and laptops. It has more content with left sidebar showing links for other services like: images, maps, videos, news, shopping and more.
Always use classic Google Search on iPad by default
As such there is no direct option to open Google Search in classic 'desktop like' format. However, there is workaround by using bookmarked link of Google Search website in classic version. Just save this URL (http:/www.google.com/webhp?nota=1) as bookmark for the same.