If you still happen to use Google Wave (and surprisingly given a miss to Google Buzz), then here is new feature bump for better surfing of Google Wave. Now you can receive email notifications for new and updated Google Waves in your Wave inbox. Setting up is quick and simple involving few clicks.
Email notifications for new Google Waves
Click on arrow next to 'inbox' link and then click 'notifications'. Using notifications menu you can select frequency of email updates. From here one, when you become part of a new wave or existing wave changes – you will receive email alert with summary of text and links to your updates waves.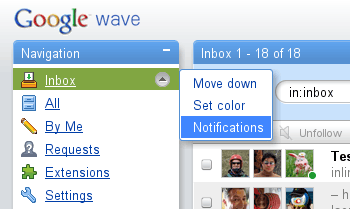 Google Wave for sure makes more sense with traditional email notifications. As pointed by Wave blog, there are few issues with email alerts mechanism like email snippet does not show all participants on the wave. Be careful riding this wave!