"Welcome to Google Instant", you should see this pop-up window while typing search keywords in Google search box. Google Instant is a new feature addition to Google Search that display search results as you type keywords. Results are displayed automatically without you having to click the 'search' button. This allows super quick and less time consuming Google Search experience.
How to use Google Instant search
It is plain simple, just goto www.google.com (or google.com/ncr if you are being redirected to local county specific Google search). Start typing keyword and view instant results as you type without any clicking.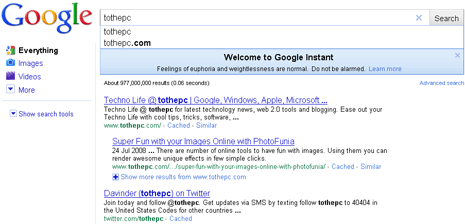 Make sure you are using compatible web browser for Google Instant feature. It is available for Firefox 2 and later versions, Safari 3 and later versions, Internet Explorer 8, Google Chrome 5 and later versions.
Benefits of Google Instant search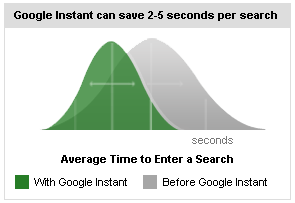 1. It saves time in getting relevant search results while you type. Hence, less time is spent searching and can go right to the web content you want.
2. With automatic suggestion you have to type less. Dynamically generated results let you stop typing as soon as you see what you need.
3. It facilitate smarter searching, like a conversation with the search engine to get instant feedback on whether your search terms return the type of results you want. If not, just add another word or two to see if the results are closer to what you are looking for.
Video Demo: Google Instant search
Google Instant feature on Google search can save lot of time while searching for web content online. However, if you find this feature annoying – there is always an option to disable & turn off Google Instant while searching using Google.