Gmail introduced Google Gears to access Gmail without live internet connection. It later introduced "Offline Mail" feature that allows you to download email attachments for offline access. Now Gmail has expanded that feature allowing you to select which message should be downloaded for offline mail access.
Selective offline Gmail messages download
1. Goto Gmail.com and login into your Gmail account.
2. Click "Settings" and then click on "Labs" tab.
3. Enable "Offline" lab feature and click "Save Change" button.
4. Now click on "Offline" tab, click enable and check customization options.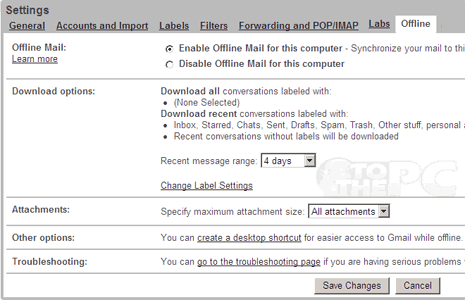 Here you can customize which type of Gmail message based on different labels should be downloaded. You can also select duration (no of days) for message saving. It also provide existing option to select email attachment downloading. Ready for selective saving of (only important) messages for quick offline availability? [via GmailBlog]