Do you want to open and view email messages on Gmail without internet? Concept of offline Gmail has been for sometime now. Earlier it was implemented using Google Gears and offline Gmail option under Labs. However, these options are no longer available to access Gmail without internet. Now Google provides newer and easier way to access offline Gmail using "Offline Google Mail' app for Google Chrome browser.
Use 'Offline Google Mail' app in Chrome (new method)
1. Launch Google Chrome browser and open download page of Offline Google Mail app available in Chrome Web Store. Click Add to Chrome button for automatic installation.
2. You will get prompt to login into your Gmail account before installation. After install, you should see following screen asking permission for "Offline Gmail access" and use it to manage and compose email when you are not connected to the Internet.

Allow offline mail option copies of recent mail for yourname@gmail.com will be synchronized and saved on this computer. If you are using a public or shared computer, do not allow offline mail. While in Don't allow offline mail option you can read and send email only when you are connected to the Internet. Offline mail will not be saved on this computer.
3. Click to select 'Allow Offline Mail' option and then click Continue button. Then you should see your Gmail inbox in new two column style structure. If you are not using offline Gmail feature, you can also implement split column Gmail structure for easier email browsing.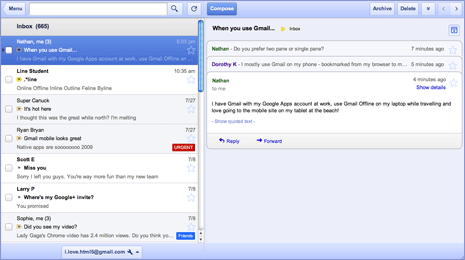 From here on, open new tab in Google Chrome browser and click Offline Google Mail button under Apps section to launch Gmail in offline internet mode. Gmail will synchronize your most recent conversations along with any conversations that seem to be important regardless of their age. Gmail automatically check for priority in deciding which email messages should be downloaded. For an average email user, it may download upto one week of email messages [more info – via Gmail blog]
DELETING SAVED GMAIL EMAIL DATA FROM COMPUTER
Since this feature only works in Google Chrome browser, you can easily remove saved data by deleting specific cookies from Google Chrome browser.
1. Open Google Chrome browser, type chrome://settings/cookies and press the Enter key.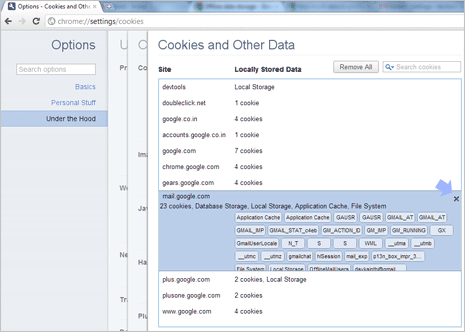 2. Then look for mail.google.com listing in the list. Click X cross button next to mail.google.com to delete saved cookies of offline Gmail email feature from your PC.
Video: Setup Offline Gmail feature in Google Chrome
Old method of Google Gears (will stop by Dec 2012)

This feature uses Google Gears software for implementation. It allows you to download emails in a cache folder on your computer. As soon as internet connection is live, Google Gears syncs and copies contents of your Gmail account and the cache folder on your computer. To get started, you need to install Google Gears on your computer and perform following steps to enable Offline Gmail feature in your Gmail account.
Login to Gmail account & click settings link.
Then click on Labs tab and look for offline Gmail option.
Select enable next to offline Gmail option.
Click on save changes option and its all done.
After your browser reloads, you will see a new "Offline0.1" link in the upper righthand corner of your account, next to your username. Click this link to start the offline set up process and download Gears if you don't already have it.
[Originally Published on Jan 28, 2009 – Updated On Sep 01, 2011]