Want to add customized email signature to your emails? WiseStamp is a cool Firefox extension that allows you to do the same.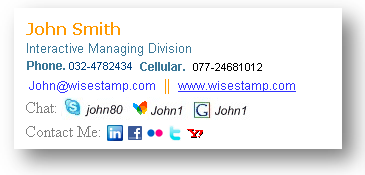 You can use this to add customized Email signatures on any webmail service like Gmail, Yahoo, Aol mail and Hotmail. To get started install WiseStamp firefox extension and setup own personal signature.
You can get ideas and inspiration from signature sample page. Customized signature gives a unique look and identity to emails you send. And yes, emails look more appealing and professional.
Download WiseStamp firefox extension. As informed by developer, they are working on version for other browser platform like Internet Explorer and email Clients like Outlook, Thunderbird.
Related – Email Selected Text in Internet Explorer with SnipIT