Do you want to send large files through an email message? All email services has feature to attach files to an email message and deliver successfully. However, these attachment limits are very small and strict for sending large files. Word "large" has different meaning in terms of size for different users. Based on final file size that you want send as email attachment, explore the following alternatives.
Send through regular email upto 25MB

If you sending email from one Gmail ID to another Gmail ID, then you can attach files upto total 25MB size. Other email providers support sending and receiving of emails upto 10MB file size. Yahoo Mail beta users can send large files upto 100MB using apps feature in the inbox, while Yahoo Mail Classic users can send upto 20MB files (total encoded files upto 25MB).
Free services to send large files
1. Pando Email – Send and receive large files upto 1GB for Free with your existing email address. You can send from within Yahoo Mail, Hotmail, AOL Mail, Gmail or Microsoft Outlook.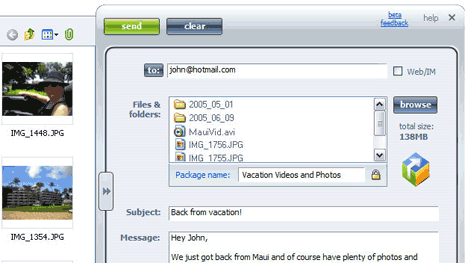 2. Transfer Big Files – It is another free service to securely email big files upto 1GB. Uploaded files are stored for upto 5 days or until the download limit of 20 downloads is reached.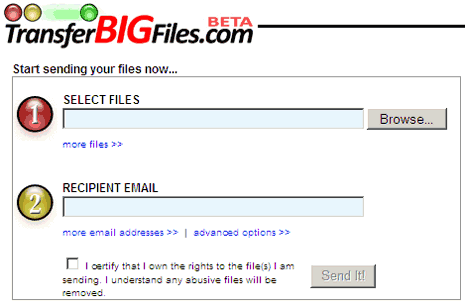 3. DropSend – It has different plans as per pricing. Free plans allows you to send 2GB files with limit of 5 sends per month. You can upgrade for bigger file size, send and download limits.
3. Send6 – This service allows you to send 250MB of files for Free. You can get pro account and send huge files upto 2GB / 4GB with unlimited downloads per month.
Free upload & share download links
Above services allows secure password protected sharing of files between email addresses. If file being shared is not private, you can upload file to any free file hosting service and send file download link through email. Use free file hosting services like:  Rapidshare.com / MediaFire.com / Megaupload.com / HotFile.com
Besides above, you can use addons for already installed application on the computer. For example, integrating Acrobat service to send large email attachments from Outlook or use YouSendIt addon to send files directly from Microsoft Office. Which is your favorite way to send large files via email?