Ideally, YahooMail will not process emails with attachment over 10MB while Gmail can handle email attachments upto 20MB. Also, when email attachment size is large, there is no guarantee of email being successfully delivered. Well, you can easily over come this and send emails with huge attachments from Outlook 2007 powered by Acrobat.com
Acrobat.com was launched a while back for free file sharing, file storage, PDF converter, online word processor and web conferencing. It provides 5GB of free webspace for your files and documents. Now, you can use this webspace for attachment being sent via Outlook 2007 by using Acrobat.com plugin.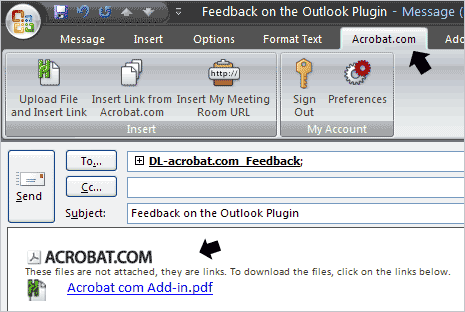 With this plugin installed, you will get new tab to login into Acrobat.com account. So, just login and upload files from computer you want to send via email. After upload, links to those files will be embedded in the email as shown in screenshot. You can also restrict access to the document to the e-mail recipients (restricted access) or to allow the file to be accessed by other, in case your e-mail gets forwarded (open access). Download Acrobat.com plugin [more details] and virtually send large email attachments.