File delivery service 'YouSendit' has launched an addon for Microsoft Office users. This is very useful if you want to send large size powerpoint presentations, excel sheets or Word documents right from Office interface.
Sending large files using email can be little unreliable and most often left undelivered. This addon allows you to use 'YouSendit' service within MS Office. After the install, you will see 'Send By YouSendIt' button under send menu in MS Office (as shown in image below).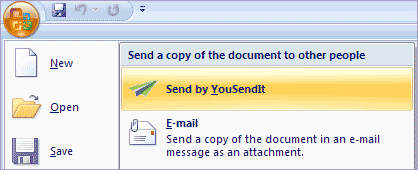 As pointed by YouSendIt, it has following merits:
25% faster uploads than the Web application.
Add additional files and folders of any kind to same upload batch.
Resumable upload- handles network interruptions.
Convenient drag-and-drop and right-click sending options.
Besides above, this allows access to standard YouSendIt features like password protection, certified delivery, and file expiration control. Download YouSentIt Addon, works fine with Microsoft Office 2003 or 2007. (Note: Free registration is required for Addon download). [via]