Newer version of Microsoft Office 2010 should be available by June 2010 in retails store across US. Microsoft Office 2010 promises lot of improvement and feature enhancements over previous Office 2007 version. You can pre-order either version of MS Office 2010 online now and get notification for your copy when it is available.
Order MS Office 2010 copy online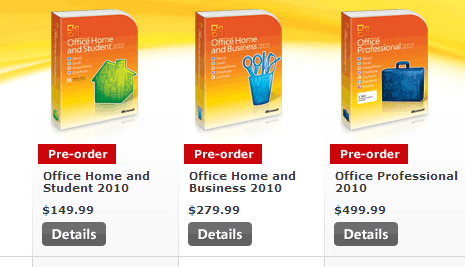 Click here to pre-order your copy of Office 2010 online. You can order either MS Office 2010 version including: Office Home and Student, Office Home and Business and Office Professional with price of $149.99, $279.99 and $499.99 respectively.
Check before you order MS Office 2010

Before you pre-order MS Office 2010, make sure you check basic system requiements for installing and using this software.
Also, Microsoft is offering free Office 2010 upgrade to user buying Office 2007 version. Explore all new features of MS Office 2010 and decide for ordering MS Office 2010 copy.