Microsoft Office 2010 suite should be out in few months from now. We have already seen official MS Office price and versions list. MS Office 2010 has lot of new features to play around with. If you are planning to use Office 2010, make sure your existing computer meet minimum requirements to run this software. Following should answer the basic question, "Can I install new MS office 2010 on my old PC?"
Basic MS Office 2010 Hardware requirements
MS Office 2010 has good bump feature-wise and does not require any special hardware specifications. Basic requirements include:
– Intel Pentium III processor, 500 MHz
– 256 MB PC100 SDRAM
– Windows XP Professional with Service Pack 3, Vista, 7
Can I install Office 2010 on existing PC?
Of course, you can! If you are already using MS Office 2007 version, then you can install Office 2010 without any issue. Also, in majority of cases you can install Office 2010 on PCs with existing Office 2003 software.

Above table show the requirements for different version of MS Office. In most cases, installing Office 2010 on exisiting PC will be smooth!
Hard disk & Operating system support
Office 2010 will take more hard drive space to install and function on your computer -1.5 GB more disk space will be required. Table below show operating system support for Office 2010.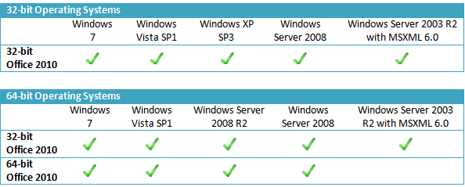 These are basic requirements, if your PC has more RAM – expect Office application to run even faster. Also, if your computer is equipped with advanced graphic card (processor) – then relish graphics and video presentation features in MS PowerPoint. If PC does not have graphic card (processor), you can still use Office 2010 minus fancy effects in MS Powerpoint application. [source]