Google Docs (now part of Google Drive) is used by lot of online users for word processing needs. It supports majority of Office document formats: allowing quick opening, editing and saving of files. With latest update, support for saving documents in old Microsoft Office formats has been removed (you can still open them). So don't be surprised, if you no longer see '.doc, .xls, .ppt" options under "Save as Document" menu in Google Docs.
Solution for: Google Docs & old Microsoft Office users
If you often use Google Docs to create documents, save them in old Office formats to open or edit in older version of Microsoft Office (XP, 2003) program – then problem has begun and is here to stay. Following are few are options you can explore: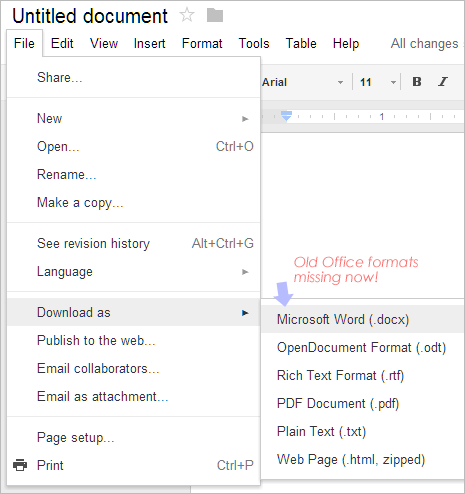 1. Install compatibility plugin – If you intend to stay to with old Microsoft Office (XP and 2003) program, then you can download compatibility plugin from Microsoft's website. After install, you should able to open new format of Office documents (downloaded from Google Docs) in older Office program without any issue.
2. Ways to open docx files – There are many options that you can explore to open new Office docx format files without using latest Microsoft Office software. Checkout various ways to open docx files using compatibility pack in older office, online conversion tools, plugin for free Open Office software and so on.
3.  Upgrade Microsoft Office – If feasible, you can upgrade your existing Microsoft Office software to new version (Office 2010) that supports modern office formats like (.docx, .xlsx, .pptx). Once you do that, all documents of .docx, .xlsx, .pptx formats can be easily opened in your new (upgraded) Microsoft Office program.
Google Docs: Can still open old Office file formats
Fortunately, Google Docs has retained feature to open files of old Microsoft Office format. This means, you can open (doc, .xls, .ppt) old Office format files, however they can be only download and saved in (.docx, .xlsx, .pptx) new Office file formats.