Google Web Elements makes it real easy for website or blog owners to show various Google services on their website. Just grab quick embed code and paste on your blog to display respective Google Service. It allows you to embed Google Search box complete with optional Adsense publisher ID.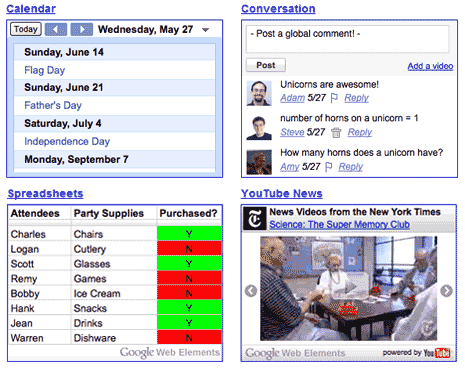 Related – Embed related Company profile widget of CrunchBase
Other interesting embed option include: calendar showing important dates of the year like Independence Day, Father's Day, Fag Day etc. You can display latest news from top sources using news widget. If you prefer video news, then grab Youtube embed widget. You can display any of your Google Docs spreadsheet and presentation with quick embed code containing URL of your presentation or spreadsheet.
You can also embed Google Maps and help visitors find location on the map. There is another cool widget to kick-start conversation among visitors on your website powered by Google Friend Connect. Checkout Google Web Elements, impressive and very easy to implement!