Google launched Samsung and Acer made ChromeBook notebooks (netbooks) powered by Chrome operating system. It promises hassle free working using applications while connected to the internet. Google Talk (Gtalk) is an effective way to stay in touch with friends in online world on usual computing devices like desktops and laptops. You can use same (or smiliar) Google Talk functionality for text and video chatting on Chromebook devices. This is possible using Google Talk application specific for Chromebook notebooks.
Download Google Talk app for Chromebook
This application is specifically for users of Chromebook notebooks with Chrome operating system. You can download this free application for all the goodness and functionality of gtalk on your Samsung or Acer Chromebook devices.
1. Open Google Talk app webpage on your Chromebook netbook. Then click Install button for installing Google Talk application on your Chromebook.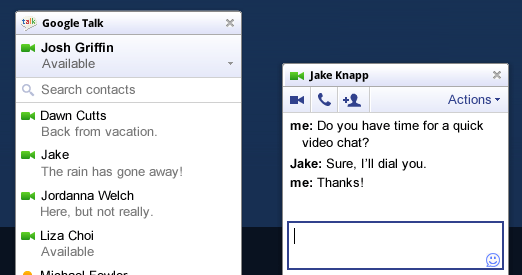 2. After install, start chatting by logging into gtalk using your Google account. Chat window will float and remain open on the screen while you browse and move from tab to tab on your Chromebook.
3. Besides the usual text chatting, this application also enables you to enagage in full screen video chatting with friends without any additional plugin or software requirement.
Please note, above application download is only for Chromebook users. If you want to use Google Talk on Windows or Mac, then download the correct version from google.com/talk website.