Gmail Labs is busy churning out new features: after 100s of new emoticons feature, now we have Google search within Gmail inbox for quick web searching. To get started, click on settings link at top part of Gmail inbox and then click on Labs tab. Scroll down and look for 'Google Search', select enable and click on save changes button.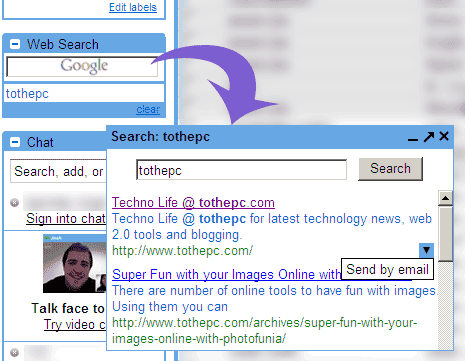 Interesting – Google Search in reverse, try figure out !
You will see new box 'Google Search' on left sidebar of Gmail inbox. Type your search keyword and hit the enter key. A Google chat like box will appear at bottom-right showing Google search results for the specific keyword. Hover on any search result to see more options like: send by email, reply with results.
If you have keyboard shortcuts turned on, typing g and then / will take you to the search box when you are not composing, and Ctrl + g will do it when you are composing. This will please many Gmail users, no more opening of new window to Google search – do it within Gmail, cool!