If you love to work with word and spreadsheet files online in Google Docs suite, then here is quick way to access all your files in other online editor (Zoho suite) without too may bells and whistles. Import feature in Zoho allows you to import and open any Google Docs file in respective Zoho application quickly. You can get going by granting access to import Google Docs files after logging into Zoho online editor.
Import Google Docs files into Zoho editor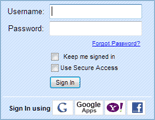 1. Goto Zoho.com and login using your Zoho account. If you do not have Zoho account, you can simply use your exisiting Google, Yahoo or Facebook accounts to login and use Zoho online editor. Click on either of icon under sign in button.
Once you are logged in, you can easily import and transfer any Google Docs file into Zoho. You can import Google documents, excel sheets, presentations into Zoho Writer, Sheet, Show respectively.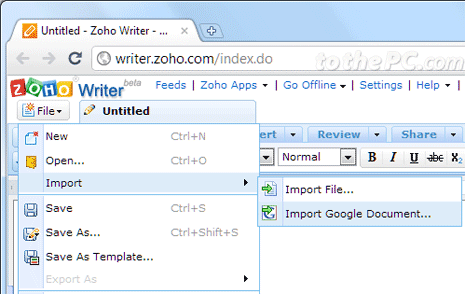 2. For example to import Google Document file, open writer.zoho.com application. Then goto File > Import > Import Google Document.

3. Then click Authenticate Google button on pop-up screen to continue with import process. Then click Grant Access button on another pop-up screen to continue.

This import feature is very useful if you are planning to switch from Google Docs editor to Zoho editor for creating and editing document files. If you often work with large size spreadsheet files then Zoho spreadsheet editor will be more comfortable place for viewing and editing of spreadsheet files (see comparison in above screenshot).